John Fitzgerald Kennedy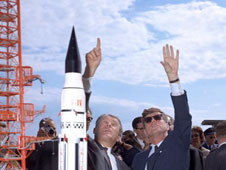 The 35 President of the United States
May 29, 1917, Brookline, MA - November 22, 1963, Dallas, TX
John F. Kennedy was Born on May 29, 1917, in Brookline, Massachusetts, John F. Kennedy (was also known as Jack) was the second of nine children.
Started the space race againt Russia But was Assassinated before he could see us land on the moon.
November 22, 1963 was JFK's assassination Bullets struck the president's neck and head.